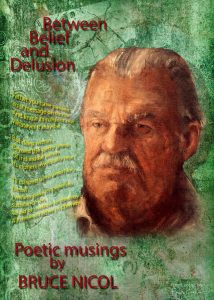 Bruce Nicol has been writing poetry for about 60 years. This volume includes poems from across that period. They range from the humorous to the deeply serious, but all show a richness and understanding of language that many would
envy.
The title Between Belief and Delusion gives a clue to Bruce's patterns of thought. While having little time for those who would rule our lives on the basis of politics or organised religion, he has a deep concern for humanity and individual freedom, combined with a certain scepticism about the meaning of life.
The book is divided into sections, such as 'Development of a Species', 'Conflict', 'Death' and 'Musings', as well as 'Humour' and 'Love'. In all the sections Bruce's concern and humour come through, prompting the reader to think about the issues he raises.
2019 ISBN 978-0-9933203-3-0 Price £12.50